50 Amazing Metal Detector Finds You'll Love
All metal detectorists dream of finding amazing treasure. While most of the time we find trashy targets or inexpensive items, sometimes detectorists get (very) lucky and find items like:
Coin spills
Gold nuggets
Ancient relics
Shipwrecks
Ancient Jewelry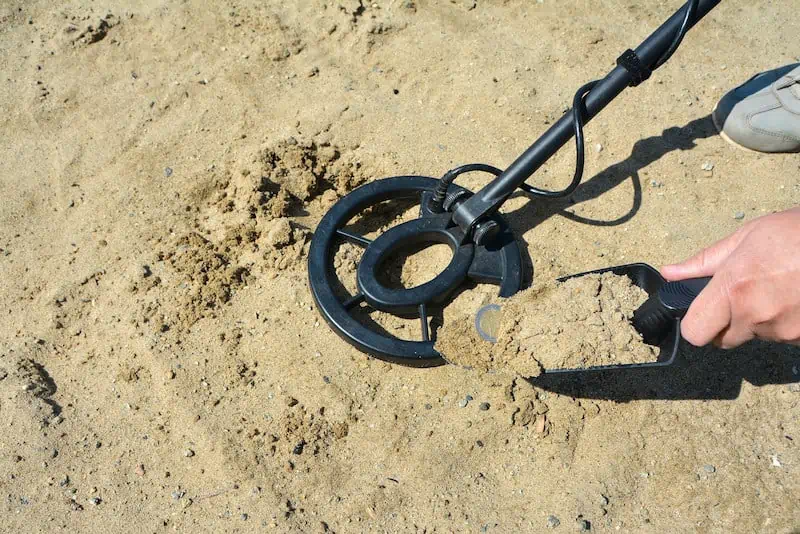 Each of these items can fetch huge prices at auction. They are also a dream come true for the detectorists who find them! 
Below you will find some of the greatest metal detector finds of all time.
Harrogate Hoard
In 2007, David and Andrew Whelan found a single coin with their metal detector in North Yorkshire. They kept digging and found a treasure trove of Viking gold and silver. Valued at just shy of a million dollars, the father son team split the money with the farmer whose field they were detecting. This treasure is now on display at the British Museum, consisting of 617 coins, a solid gold arm ring, brooch pins, gilt and silver cup, and many other silver pieces. 
If you're in the market for a new metal detector, check out our table below, which allows you to directly compare some of the most popular metal detectors on the market:
Crosby Garrett Helmet
In 2010, an unnamed metal detectorist found copper fragments in an English field near Crosby Garrett in Cumbria. Once assembled, they were revealed to be a Roman face helmet dating from the late 2nd century or early 3rd century CE. Featuring a bronze cap and Griffin crest, the Crosby Garrett Helmet sold for $3.6 million at auction.
Escrick Ring
In 2015, detectorist Michael Greenhorn found a gold, glass and sapphire ring in Escrick, Yorkshire. Experts struggled to date the ring, as the sapphire was cut centuries before the ring was made. It is thought that the ring was solely created to display the sapphire and likely belonged to a king or other leader. A Yorkshire museum purchased the ring for $44,132.
Ringlemere Gold Cup
In 2001, amateur detectorist Cliff Bradshaw made an incredible find in the county of Kent in England. The Ringlemere gold cup was badly crushed by farming equipment, but that didn't affect its value too much. Created from a single piece of hammered gold with a handle cut from a flat gold strip attached by rivets, this 14-centimeter cup was used as a votive offering in a barrow from 1700 to 1500 BCE. The British Museum purchased the cup for $520,000.
The Hoxne Hoard
In 1992, detectorist Eric Lawes found the single largest hoard of late Roman gold and silver ever discovered in Britain. Found in Hoxne, Suffolk, while searching for his friend's lost hammer (which was also recovered), the hoard contained 14,865 Roman coins and around 200 tableware items and gold jewelry items. The coins date post-407 CE, when Britain was no longer a Roman province. The Treasure Valuation Committee valued the find at approximately $2.59 million. The Hoxne hoard is now owned by the British Museum, where some of the more prominent pieces are on permanent display.
A 2-Pound Meteorite
Jansen Lyons was just 13 years old when he discovered a 2-pound meteorite near Albuquerque, New Mexico with a homemade metal detector (by his grandfather). The nickel-iron meteor was tested and fell to earth some 10,000 years ago. 
Bronze Age Axe Head
Historian Steven Hickling was metal detecting in Huyton, England when he found a rare Bronze Age axe head. Dating from 1850 – 1750 BCE, the axe head is one of only 1,000 ever found. This axe head is displayed at the Fir Tree Farm Shop, which is the location he was metal detecting when he found the Axe. 
Iron Age Golden Torcs
A Scottish man found 4 near perfect gold necklaces in 2009 in a field near Stirling. Some of the gold wires used was said to be as thick as a finger. Dating from between the 1st and 3rd century BCE, these necklaces, called torcs, are similar to those worn by Celtic Queen Boudicca 2,000 years ago. Per Scottish law, the finds were immediately turned over to the Crown, but the finder would be rewarded with a fair market value for the treasure.
The Boot of Cortez Gold Nugget
Found in the Sonoran Desert of Mexico 1989, the Boot of Cortez gold nugget weighed a whopping 389 troy ounces (26.7 pounds). A metal detectorist found this nugget, which is still the largest gold nugget ever found in the Western hemisphere. Its unusual shape and size accounts for the name. In 2008, the nugget sold for $1.5 million at auction.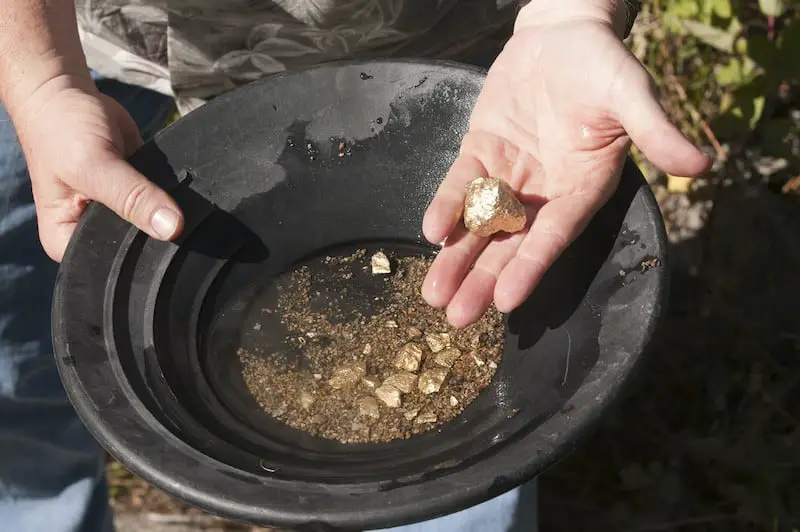 Golden Chalice
Underwater diver and detectorist Mike DeMar found a golden chalice in 2008 off Key West, Florida. The chalice dates from nearly 400 years ago and is from the shipwreck of the Spanish ship Santa Margarita. The Santa Margarita sank in 1622 and was full of treasure. DeMar received $1 million for his find.
The Mojave Nugget
In 1977, prospector Ty Paulson was metal detecting in the Mojave Desert. He uncovered a 156-ounce gold nugget worth $200,000. The gold nugget is the largest nugget to have come from this area, part of the Stringer Mining District. The Mojave nugget is on display at the Natural History Museum of Los Angeles County.
Milton Keynes Hoard
In 2000, amateur treasure hunters Gordon Heritage and Michael Rutland discovered an ancient stash of Bronze Age gold in a field near Milton Keynes, England. Items found include 2 torcs, 3 bracelets, and a bronze rod fragment within a pottery vessel. The find was dated to 1150 – 800 BCE. Valued at $382,000, the finders received 60% of the items worth. The Milton Keynes hoard is now housed at the British Museum.
Wickham Market Hoard
In 2008, metal detectorists Michael Dark and Keith Lewis found a hoard consisting of 840 Iron Age gold coins in a field near Wickham Market, Suffolk, England. The coins date to 40 BCE to 15 CE. This was the largest hoard of British Iron Age coins to be studied and provided new information for archaeologists and historians. The Ipswich Museum purchased the coins for $416,000.
Frome Hoard
In 2010, metal detectorist Dave Crisp found a massive hoard of Roman silver and bronze coins near Frome in Somerset, England. Found within a ceramic pot were 52,503 coins dating from 253 – 305 CE. This hoard is one of the largest ever found in England. It dates from the reign of Carausius, the first Roman Emperor to strike coins in Britain, who ruled independently from 286 – 293. The Museum of Somerset purchased the hoard for $421,000.
Leekfrith Torcs
In 2016, metal detectorists Joe Kania and Mark Hambleton found four Iron Age gold torcs in a field in Leekfrith, England. The torcs were dated to 400 – 250 BCE, making them the oldest Iron Age jewelry to be uncovered in the United Kingdom. The torcs were purchased by the Potteries Museum and Art Gallery for $431,000.
Newark Torc
In 2005, detectorist Maurice Richardson found an Iron Age gold torc in a field in Newark-on-Trent, England. The Newark torc was purchased by the Millgate Museum for $461,000. This money was split between Richardson and the landowner, Trinity College. 
Winchester Hoard
In 2000, metal detectorist Kevan Halls came upon a hoard of Iron Age gold in a Winchester, Hampshire, England field. The Winchester hoard consists of two jewelry sets of high purity gold dating from 75 – 25 BCE. The British Museum purchased the hoard, and Halls ended up with $232,000.
Hand of Faith
Found in 1980, the Hand of Faith gold nugget was found by detectorist Kevin Hillier near Kingower, Victoria, Australia. This nugget weighs an astonishing 60 pounds. If you have ever been to the Fremont Street area of Las Vegas, Nevada, you may have seen this impressive find in the Golden Nugget Casino. The Golden Nugget purchased this nugget for $1.1 million. This remains the largest intact golden nugget, the second largest ever discovered, and the single biggest nugget ever found with a metal detector.
Shapwick Hoard
In 1998, amateur treasure hunter Martin Elliot was teaching his cousin to metal detect in Shapwick, Somerset, England. The two came across a Roman coin near the surface. Digging deeper, Elliot found a total of 9,262 Roman coins dating from 31 BCE to 224 CE. This was the largest number of silver denarii ever found in Britain and contained two rare coins never discovered in the country. The coins were valued at $349,000 and are now owned by the Somerset County Museum.
Lenborough Hoard
In 2014 at a metal detecting rally in Lenborough, Buckinghamshire, England, organized by the Weekend Wanderers Detecting Club, detectorist Paul Coleman found a coin hoard just two feet under the surface inside a lead container. The Lenborough hoard consisted of over 5,000 Anglo-Saxon silver coins dating to the 11th century. The coins were valued at $1.64 million and purchased by the Buckinghamshire County Museum.
Galloway Hoard
In 2014, metal detectorist Derek McLennan came upon a Viking hoard of silver jewelry and ingots, a gold ingot, a gold pin, and decorated silver vessel in a field in Dumfries and Galloway, Scotland. The vessel also contained beads, glass and rock crystal amulets, several brooches, a rock crystal flask, pointers used to read and mark medieval manuscripts, and another gold ingot. National Museums Scotland purchased the hoard for $2.42 million.
Grouville Hoard
In 2012, metal detectorists Richard Miles and Red Mead discovered a hoard of over 70,000 Iron Age Celtic and Roman coins and many pieces of jewelry in Grouville, Jersey, Channel Islands. The Grouville hoard dates to around 50 – 60 BCE and is thought to have belonged to a tribe fleeing Julius Caesar's armies. This find was declared the largest Celtic coin hoard and valued at around $3 million.
Staffordshire Hoard
In 2009, metal detectorist Terry Herbert found a stash of Anglo-Saxon gold and silver metalwork in farmer Fred Johnson's field in Staffordshire, England. This was the largest hoard of Anglo-Saxon gold and silver ever discovered, containing over 3,500 items. The items date to the 6th and 7th centuries and was jointly purchased by the Birmingham Museum and Art Gallery and Potteries Museum and Art Gallery for $4.3 million.
1715 Fleet Shipwrecks
In 1715, 12 ships laden with New World treasures were bound for Spain when they were hit by a hurricane off the Florida coast. In 2015, William Bartlett and his treasure hunting team uncovered some $4.5 million worth of treasure from the 1715 shipwrecks using underwater metal detectors. The initial haul consisted of 350 gold coins, nine of which are royal eight escudos. 
Black Swan Project
Announced in 2007, the Odyssey Marine Exploration company discovered and recovered some $500 million worth of gold and silver coins from the ocean floor. Although they kept the location a secret, it eventually came out that the coins were from a sunken Spanish frigate called Nuestra Señora de las Mercedes which sank in 1804 off the coast of Portugal. After bringing the coins back to Florida, the Odyssey Marine Exploration Company was sued by Spain. The company lost and not only had to return the coins but was ordered to pay Spain $1 million.
WWII Money Stash
In 1946, an unnamed postal inspector was searching the records of deceased postal workers when he noted several anomalies, prompting an investigation. Postal inspectors approached the United States Army to borrow a metal detector in order to probe into the matter. Upon scouring the deceased man's garden, they found $153,150 of stolen money in jars, cans, and hidden in a stovepipe.
Pirate Treasure
In 1947, Edward Rowe Snow, a Massachusetts historian and author purchased a treasure map believed to be owned by pirate Edward Low. The map consisted of a hand-drawn sketch showing a strip of land labeled Island Haute with "E. Low" at the bottom of the paper.
Snow identified Island Haute as Isle Haute, a small island off the Nova Scotian shoreline atop the Bay of Fundy. Snow boated to Isle Haute in 1952 to explore the site marked "The Place" on his map. Snow eventually uncovered Spanish and Portuguese doubloons in the area.
Derrynaflan Hoard
In 1980, Michael Webb and his son, Michael Jr., were metal detecting near Killenaule, County Tipperary, Ireland. The pair discovered an 8th century chalice along with a ladle and paten. This was a full set of Christian communion vessels. The pair had received permission to metal detect the area but failed to receive permission to dig. The treasure was confiscated by authorities and ended up with a small fraction of the item's worth. Today, it is estimated to be worth $15.1 million!
7th Century Solid Gold Cross
In 2008, an anonymous metal detectorist discovered a 1,400-year-old solid gold cross on a farm in Nottinghamshire, England. Measuring just over 1 inch long, the 18-karat gold cross is decorated with red gemstones the ancient Greeks called granatum. Historians think the item was worn as a pendant. The small cross was found to be worth at least $33,000.
Gold Ingots
In 2012, 2 workers with metal detectors in the village of Klingnau in Switzerland near the German border stumbled upon 10 unmarked gold ingots. The ingots were never claimed, and the Swiss village has found itself just over $100,000 richer!
Bronze Age Axe Head Hoard
In 2008, bus driver Tom Peirce was metal detecting in a field near Swanage, Dorset, England after dropping off a school party at a farm. His detector began beeping and he retrieved a bronze axe head. After digging some more, he found dozens more. Over the next 2 days, Peirce and his colleague Les Keith unearthed nearly 500 bronze artifacts dating back 3,000 years. The hoard contained 268 complete axe heads and was valued at $106,000. 
Roman Burial Site
In 2013, Phil Kirk and Harvey Cross were metal detecting in Britain and came across a handle to a Roman jug and the top of a piece of pottery. Nothing else was found that day. In 2014, Kirk decided to go back to the site and received a signal on his metal detector.
Several Roman artifacts were uncovered, at which time Kirk notified local archaeologists. He accompanied the archaeological team on the next dig and unearthed a large flint cairn used for high status burials dating to 200 CE. More Roman artifacts and even some mosaic glassware from Alexandria, Egypt were discovered. The items are now awaiting restoration in a museum.
Solid Gold Viking Crucifix
In 2016, Dennis Holm was metal detecting in a field near Aunslev, Denmark when he found a small gold crucifix. The solid gold cross depicts Jesus with arms outstretched and is thought to be Denmark's oldest crucifix, dating back over 1,100 years. The object is significant because according to Malene Refshauge Beck, curator and archaeologist, the figure may alter the period when it is believed the Danes became Christians. The piece is on display at the Viking Museum in Denmark.
15th Century Gold Artifact
In 2009, Mary Hannaby were metal detecting in a field in Hertfordshire when they found a gold artifact dating from the 15th century. It is believed to be part of a pendant or reliquary. The British Museum stated that this was an important find as it depicts the Holy Trinity. The item was sent to auction at Sotheby's in London the same year.
Ancient Jewelry
In 2007, an Austrian man known as Andreas K., found over 200 rings, brooches, and other ornate objects in his backyard in Wiener Neustadt, Austria. The objects were determined to be over 650 years old, making them one of the largest medieval treasures discovered in Austria. 
Coin Spill in Texas
In 2017, metal detectorist Robert Hodson was beachcombing in Galveston, Texas with his detector. The detector began giving signals in all directions and Hodson knew he was on to something big. He had come upon a coin spill of foreign coins. As it turns out, the coins were stolen from a local man. Hodson was able to return the coins to the owner.
Missing School Ring
In 2019, Jerry Pope was metal detecting on Melbourne Beach in Florida. He came across a class ring with initials carved into it. Kenneth Board was the original owner and stated he lost the high school ring on Cocoa Beach, some 20 miles from Melbourne Beach, in 1970. Pope was able to return the missing ring to Board.
Spanish American War Medal
Memorial Day 2019, Mark Ferguson was metal detecting at Shenandoah Park in Sarasota, Florida. He found a Spanish American War medal dated 1898 with the name Thomas Sines Sr. Sines was awarded the medal for service in the war as part of the 10th Ohio Volunteer Infantry. He passed away in 1948. Ferguson was able to reunite the lost medal with Sines' great granddaughter. 
Viking Treasure
In 2015, George Powell, Layton Davies, Simon Wicks, and Paul Wells found 300 coins and several pieces of jewelry of Viking origins. Despite this great find, the men did not report the treasure to authorities, which is punishable by law per the Treasure Act of 1996, and the men were arrested.
Anglo Saxon Coins
In 2019, metal detectorist Don Crawley was hunting on a farmer's land in Suffolk England. He came upon a stash of 92 coins. The coins, 81 Anglo Saxon silver pennies and 18 cut halfpennies, were set for auction in December 2019, expecting to bring anywhere from $37,000 to $62,000. The Finds Liaison Officer investigated the site and found it was the home of a forgotten Saxon church. Human bones and other coins were also found on the site.
A Piece of 8
Metal detectorist Brad Martin of Green Mountain Metal Detecting was hunting in the Vermont mountains when he found the remains of a building's basement and a long stretch of stone wall. He found several artifacts including a tombac button from the 1700s, a copper coin thought to be a British halfpenny, a trigger guard from a musket, and a Connecticut copper struck in 1785 – 1788.
His most incredible find was yet to come! Just before he finished for the day, he got another reading on his detector. After digging, he found a 1780 Spanish Eight Real, known as a Piece of 8 from pirate legends. Martin later found out that this coin was one of the most counterfeited coin of all time and was likely fake. 
King Harold II Pennies & William the Conqueror Coins
In 2019, Adam Staples and Lisa Grace came upon a trove of coins dating back 1,000 years while metal detecting in Somerset, England. In total, the pair found 2,571 coins comprised of King Harold II pennies from the end of the Anglo-Saxon period, and William the Conqueror coins minted after the Norman Conquest of 1066. Staples and Grace contacted the authorities and turned the coins over to the British Museum for evaluation. It is thought that due to their impressive condition, each coin could be valued from $1300 to $6600.
1500s Gold Coins
In 2019, Paul Raynard and Michael Gwynne were metal detecting to find a lost wedding ring. They found much more than that! The pair stumbled upon a stash of coins, 84 in total, dating to the 1500s, in a field near Ballycastle, Northern Ireland.
The coins are estimated to be worth $132,000, including a very rare Henry VIII coin worth $6,600 on its own and one dated 1546 when the boy king Edward VI reigned, which could be worth $4,000.
Missing Historical Village
Keith Wille is a metal detectorist in New London, Connecticut. He and several other amateur detectorists work together with archaeologists in the area to uncover pieces of history. In 2017, Wille was detecting in the Connecticut woods when he found several objects, including a brass triangle about 2 ½ inches long with a small hole in the middle.
He thought little of the find and took it along with others to the Mashantucket Pequot Museum and Research Center. Dr. McBride of the research center said there is a good chance Wille has uncovered the site of a missing village called Tatuppequauog. If it turns out to be the missing village, Wille would be listed as the discoverer.
Weapons Cache
In 2013, an amateur detectorist found one of the largest hauls of paramilitary weapons in Northern Ireland on a Lisnabreeny estate, a National Trust property outside Belfast. Consisting of 16 semi-automatic handguns and 800 rounds of ammunition, the weapons are thought to be from Europe.
Historical Battlefields
Detectorist Bob Spratley says he's discovered the site of the historical battle at Matanzas where in 1565, Pedro Menéndez de Aviles killed hundreds of Frenchmen under Jean Ribault near Fort Matanzas in Florida. He did years of research and has found weapons, coins, buttons, buckles, crosses, amulets, and cannons. He has not disclosed the exact location of the massacre site.
1715 Fleet Ring
As mentioned earlier in this article, the Spanish fleet that sunk in 1715 has yielded many treasures. Metal detectorist Gary Drayton (you may know him from the television show Curse of Oak Island) retrieved a 22 karat Inca gold ring with 9 flawless Colombian emeralds. He calls this find "The Precious." This is not Drayton's only great find. He also found several pieces of 8, sword belt buckles, and a silver religious artifact from the 1715 fleet. 
Rare Coin
Metal detectorist Tim Sauer uncovered a 1652 pine tree shilling on Martha's Vineyard. This was the first coin minted in colonial Massachusetts. Sauer uncovered the find on a beach in 2016. This is the oldest coin ever found on Martha's Vineyard.
Cannon Ball
A North Carolina metal detectorist, Ken Kyte, uncovered a cannon ball dated to 1862 on a beach. The ball weighs 44 pounds. Kyte has also found a brass Confederate buckle and a 1755 King George coin in Aiken County, North Carolina.
Native Silver
While I personally have never found anything like the 49 items I have written about (I typically find horseshoes, nails, mining debris, etc.), my husband and I have found several pieces of native silver while metal detecting in the mountains of northwestern Utah. The first few pieces we found I was convinced were melted soda cans or other metal. Native silver can come in odd shapes and sizes. So, we got a chemical test kit and every single test we ran comes back silver! 
You Might Also Want to Read: